Excavating in Woodland Park – 3 Major Challenges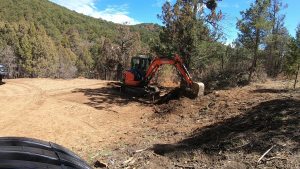 If you've read our blog you may notice our article on Excavating in Colorado Springs and how it discusses the unique problems we face when it comes to excavation. This time we are going to take a look at a close neighboring city, Woodland Park. Doing work that requires heavy machinery, like excavating, is extremely difficult to do in a mountainous area like Woodland Park or even most of Teller County. Today we will cover the 3 major challenges that we can face as excavating contractors in the great rocky mountains.
The biggest problem we face in excavation is steep locations. Having heavy equipment on an unlevel surface can lead to dangerous situations if done improperly. In situations like these, we have to first get the equipment into place and build out a flat platform in which the machinery can sit safely, only then can we begin the actual excavation project. Another issue that comes with a mountainous area is getting the land leveled. Being on the side of a mountain can be very steep and must take many factors into account when leveling land for foundations or even when digging for something like a septic system installation or even when installing a driveway. One of these factors is the weather and the erosion and drainage issues that can potentially come along with it. As you can see, excavating in Teller County can come with its own set of unique issues such as excavating on steep surfaces. Iron summit Excavating has tons of experience when facing these challenges and can ensure the project is completed safely and most importantly on time and on budget.
The next major challenge we face is how much vegetation grows in these regions. Clearing down sometimes hundreds of trees, especially on a steep surface, can be a difficult task. Depending on the size of the area it may be necessary to bring in multiple machines as we have to clear the area tree by tree in these scenarios. The other factor that must be considered is where all the trees and other vegetation will go after the area has been cleared. Sometimes this can take multiple trips or multiple trucks to haul off everything. As you can see, dealing with some of these unique challenges can be difficult, however, Iron Summit Excavating has all the right tools to complete a job of any size!
Although there are many other challenges we face when excavating in Woodland Park, the last major challenge is dealing with boulders, rocks, and very hard soils. Trying to dig into hard soil or rock can require special tools and can add new potential obstacles & time to the project. For example, to break through rock sometimes a tool called a hydraulic breaker is needed. Using this tool can be dangerous and if used improperly you can chip the rock and send shrapnel flying and the tool can be broken. To mitigate risk, we ensure all our excavation specialists are fully trained in the handling and use of all tools necessary to complete the assigned project. All the safety precautions are necessary are in place to complete the project both safely and efficiently.
At Iron Summit Excavating we are able to overcome all of these challenges not only to ensure everyone's safety on the worksite but also to provide your project with top-notch excavation work. Contact us today for an estimate on your upcoming project in Teller County.
3 Major Challenges We Face Excavating In Woodland Park